Find Your Size: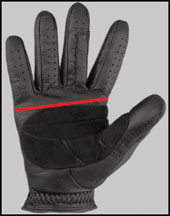 1) Use your dominant hand when making the measurement.

2) Measure the circumference around your hand at the line indicated in the diagram.
3) Compare your measurement with the provided sizing chart:
-When in doubt, choose a larger size.
-The most common issue with sizing is the length of a person's fingers are often longer than the size indicated in the chart.
- If you are in between two sizes, or your hand is proportionally longer, choose a larger size.
| | | | |
| --- | --- | --- | --- |
| Women's Size | Women's Measurement | Men's Size | Men's Measurement |
| Small (S) | 6 inches | Small (S) | 7 - 7.5 inches |
| Medium (M) | 6.5 inches | Medium (M) | 8 - 8.5 inches |
| Large (L) | 7 inches | Large (L) | 9 - 9.5 inches |
| | | Extra Large (XL) | 10 - 11 inches |
| | | Double Xtra Large (XXL) | 11+ inches |